See all panels and how they can be combined
See all panels and how they can be combined
Straight panels, flex panels and end panels

Straight panels on units
These straight panels sits on the units and are non-flexible with an aluminium profile in top and bottom of panel.
Width: 90 cm
Height: 220 or 250 cm.
Depth: 40 cm (also available in 26 cm using a half feet)
Stand-alone: Can also be used stand alone as a banner stand type of product. Single or double-sided.
Straight configurations: Several units can be conncted to create a straight wall.

Flexible panels
Flexible panels with rubber profiles in top and bottom of the panel. Used in between straight panels with units, to create corners and curved shapes. Flexible panels cannot be connected to each other or be used at the ends of a configuration.
Width: 60 cm
Height: 220 & 250 cm
End panels
Can be used at the ends of your configuration for a three-dimensional look.
Width: 9 cm
Height: 220 & 250 cm
There is also an end panel used for double-sided units, it is shaped like a wedge (top 6 cm, bottom 13,5 cm).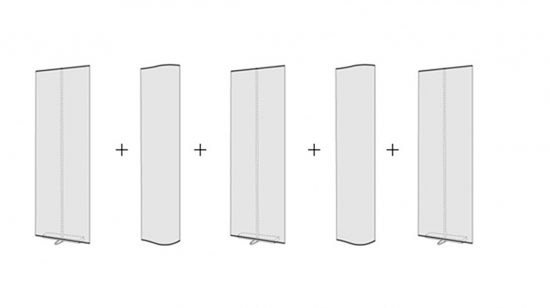 For a flexbile configuration
The flexible panels are used between the units with panels. The flexible panels cannot be placed at the end of a configuration.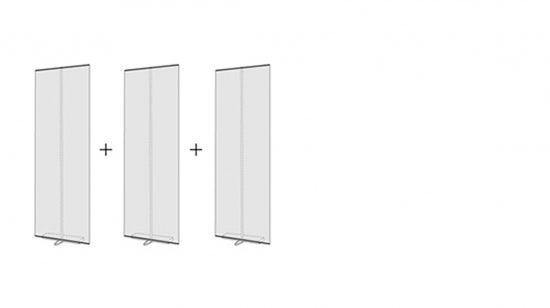 For a straight configuration
Use only units with panels to create a straight configuration.