A reusable exhibition system for McCain Foods
A reusable exhibition system for McCain Foods
The more flexible, the better. That was McCain Foods' main focus when they started looking for an exhibition stand. The result: straight wall modules from the Expand GrandFabric system, which can be reused in different configurations, depending on the floor space and user area.
Previously, when exhibiting at various event, the Swedish division of McCain Foods, a company with appetizers and fries as focus, used retractable banners. Now, for the recurring Fast Food & Café exhibition, it was time to invest in a full-scale solution. The stand (5x4m) was created with three wall modules and a storage module - all with double-sided fabric prints. Some of them had the same message printed on the back in order to be reused on events with smaller floor space.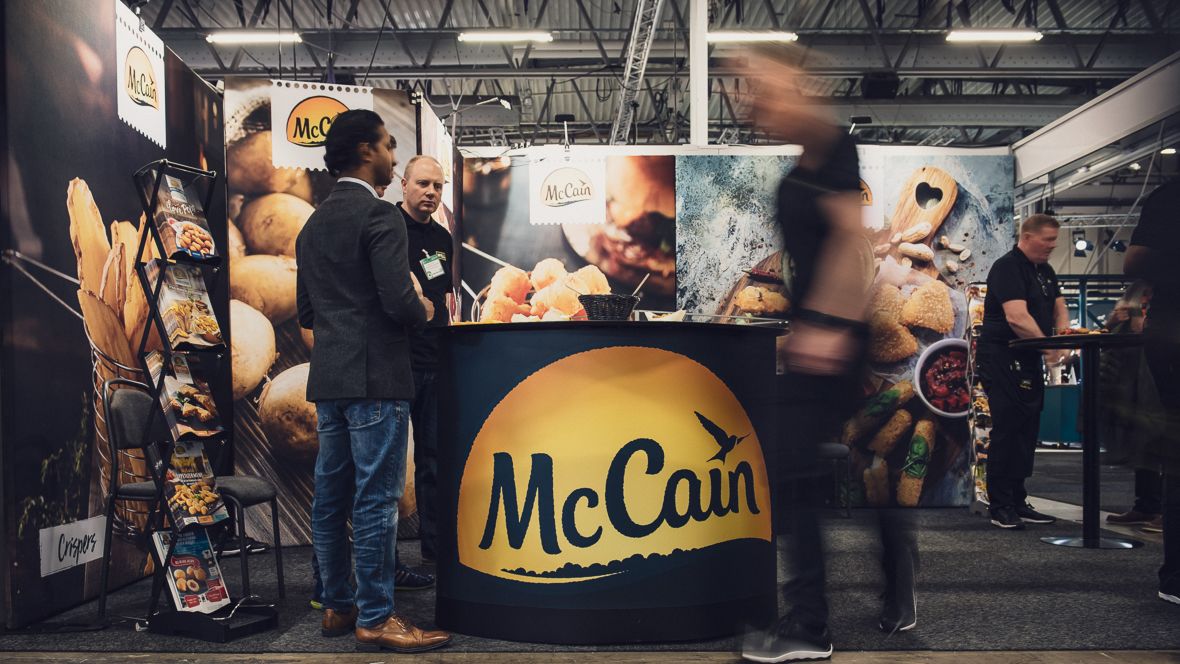 We needed an adaptable stand
"Mainly, we needed to find a high quality adaptable exhibition system. For larger exhibitions, we wanted a full sized stand with storage, while still having the opportunity to use just a single backwall at smaller events without having to buy something new each time" says Jesper Hedlund, Category Manager at McCain Foods.
A 1.5 square meter storage
To keep the stand nice and clean, McCain chose a 1.5 square meter storage where they could put products, boxes and bags. The storage walls may also be used as backwalls, free-standing or connected.
Two counters for food tasting
McCain chose two portable counters, Expand PodiumCase, where they had great space for food tasting. The counters also functions as transport boxes on wheels, for packing their stand.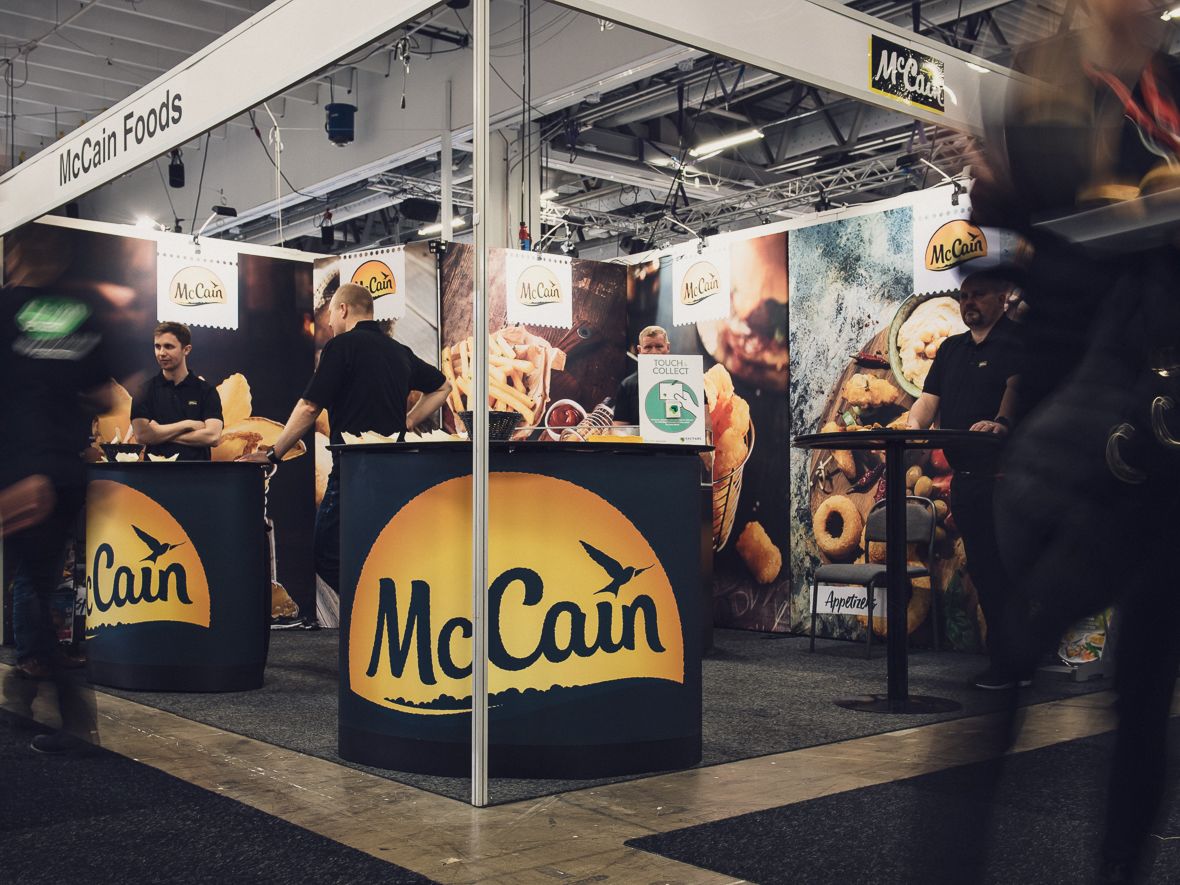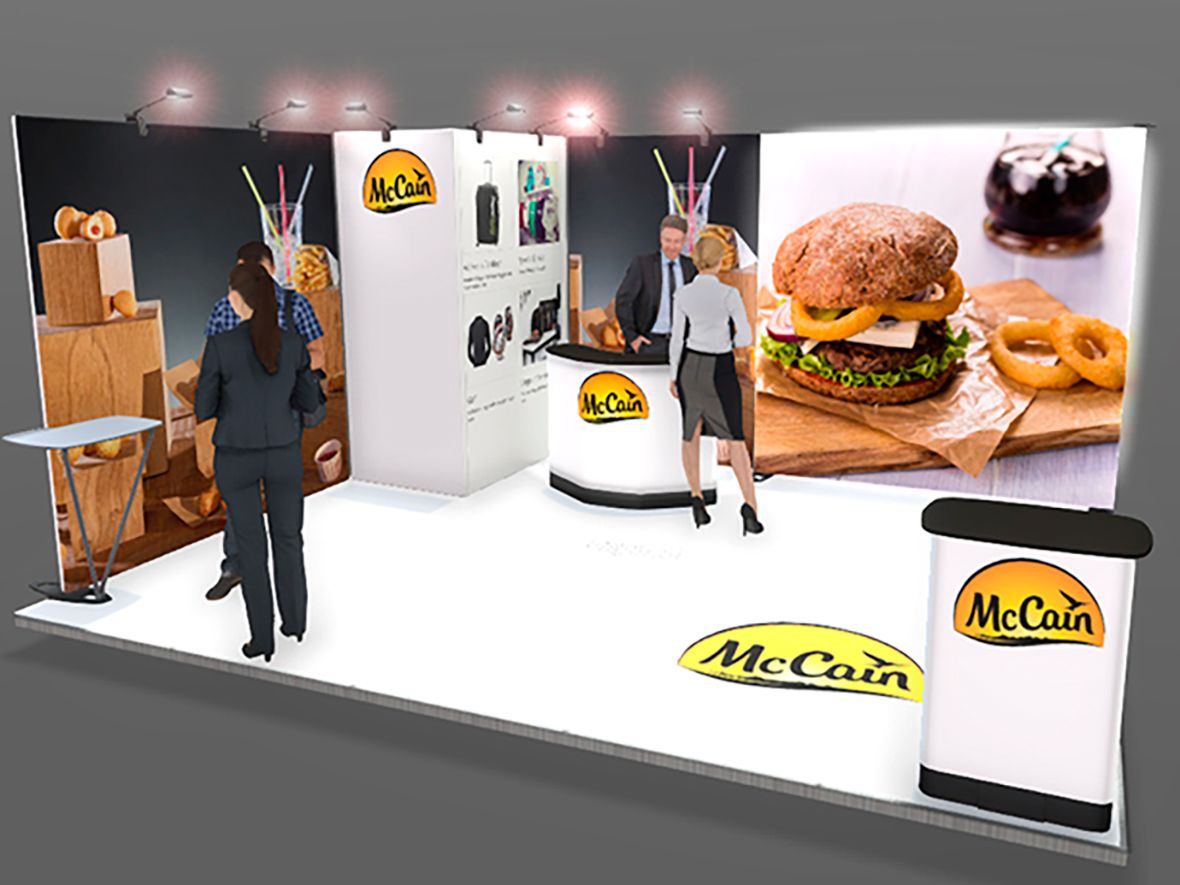 Visualize the stand with a 3D sketch
To enable McCain Foods to visualize a stand that met their needs, we created a 3D sketch using the The Expand GrandFabric system, with customer specific photos. A system of modules in different shapes and sizes that can easily go from a backwall to an entire stand. Also, with the possibility to add both straight and curved storage modules as well as other accessories - spotlights, shelves and tables.
Reusable & flexible
"Besides the system´s flexibility, we were drawn by its simplicity as it is easy to set up, take down and bring in the transport box on wheels. Thanks to the reusability, it became a reasonable price, which was a plus," concludes Jesper Hedlund.